40 Acres with Maintained BLM Road Access
Excellent location
Payment Options
Payment Note(s)
Once you click the "Reserve Now" button and complete the Checkout Process, we will receive an instant notification that your deposit has been made. This deposit is non-refundable and will be credited towards your purchase. You will then be given the option to close through a local title company or in-house. Please contact us with any questions.
When closing in-house we complete the transaction in less than 5-7 business days and is a flat rate of $300. When closing through a local title company, expect the transaction to be completed in ~30 days and can cost between $700-$1200, depending on the area and property. If you choose to close through a title company that is to be paid by you, the buyer.
Location
This 40 acre tract conveniently has BLM Road 3203 run through it east-to-west providing opportunity to use the land on either side of the road. BLM Road 3203 maintained by the US Department of the Interior.
Address: Type "41.858724, -107.686547" into Google Maps or simply click this link for directions from anywhere via Google Maps. https://goo.gl/maps/TVkoeXowQ3c5KbLb9
Directions: From Rawlins, Take I-80 to Exit 196 (Riner Road). Follow BLM Road 3203 12.3 miles to the property.
Description
40 acres with direct access to BLM 3203 maintained by the US Department of the Interior. Borders 640 acres of BLM Land along the southern boundary! All for under $400/acre.
Are you looking for large REMOTE acreage perfect for hunting, camping, RVing, or simply a private location to get away from it all? THIS IS IT!
The land is raw, flat-to-rolling remote acreage. The north side of the property is about 10 feet higher than the south side. This provides an excellent vantage point for unlimited views of the surrounding landscape and mountains on the horizon. Seasonal water flows east-to-west through the south side of the property creating a wildlife magnet. Additional water flows through the BLM land to the south.
There is no access to utilities – any building would be off-grid. Some of the permitted uses include farming, ranching, grazing, dairying, animal or plant husbandry or any other agricultural use. Link to permitted uses.
This property borders 640 acres of BLM land – that is property owned by the United States of America for recreational use.
Hunting Information: Antelope Unit 61, Deer Unit 98, Elk Unit 118, Mountain Lion Unit 11, Pheasant Unit 11, Sage Grouse Unit 1. For more information visit the Wyoming Game & Fish Department Website.
Property taxes are $55.83 per year. Title is free and clear.
30 miles to Rawlins, WY: Population 9,200. Rawlins has all services needed including restaurants, service stations, hospital and Walmart Supercenter (more info).
103 miles to Rock Springs, WY: Population 24,000 (more info)
117 miles to Casper, WY: Population 58,000 (more info)
128 miles to Laramie, WY: Population 34,000 (more info)
153 miles to Green River, WY : Population 12,000 (more info)
216 miles to Cheyenne, WY : Population 64,000 (more info)
258 miles to Denver, CO: Population 620,000
322 miles to Salt Lake City, UT: Population 200,000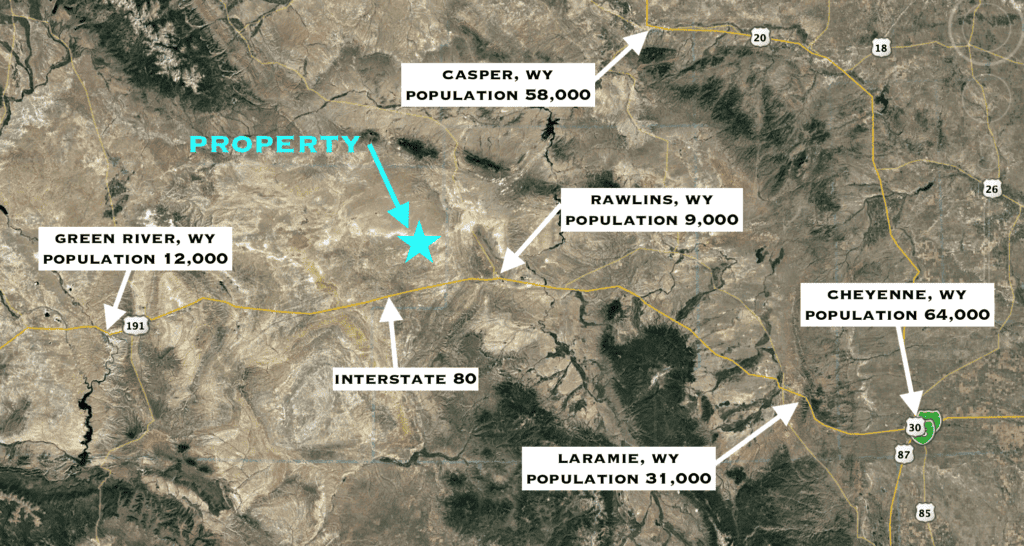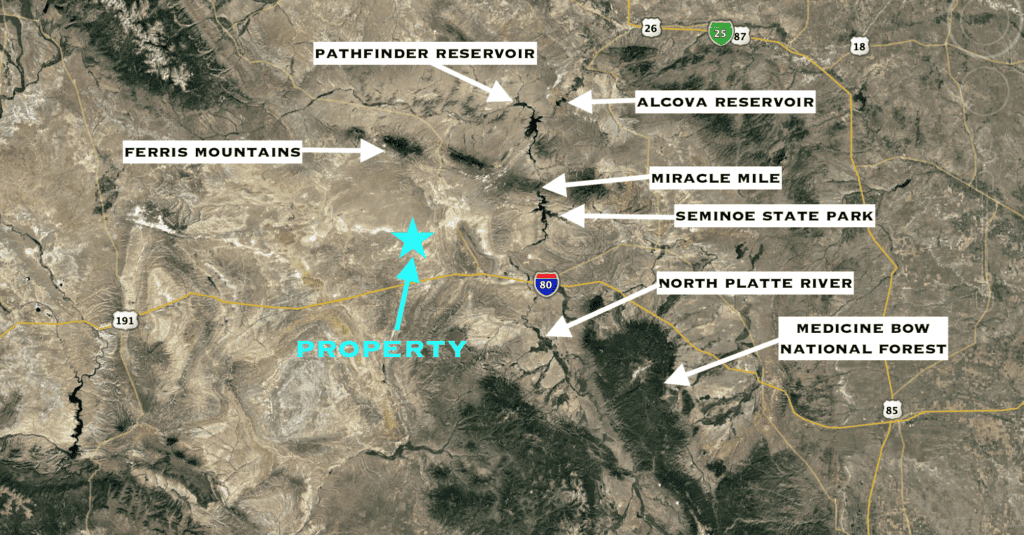 Property Information
Parcel #
2291-21-4-00-115-00
Address
GPS 41.858724, -107.686547
Legal Description
T22N R91W SEC 21 SW4SE4
Features
40
Acres
Sweetwater
County
Dirt Road
Access
None
Power
None
Water
41.858724, -107.686547
Coordinates
Agricultural
Zoning
6,850 feet
Elevation
Hunting Information
The Wyoming Game & Fish Department is an excellent resource for all things hunting. https://wgfd.wyo.gov/hunting
If you want to hunt antelope, you've come to the right place. Wyoming has more antelope than all the rest of the continent, and harvest success commonly exceeds 85%. Pronghorn, called antelope here, are found only in western North America. This property is within antelope unit 61.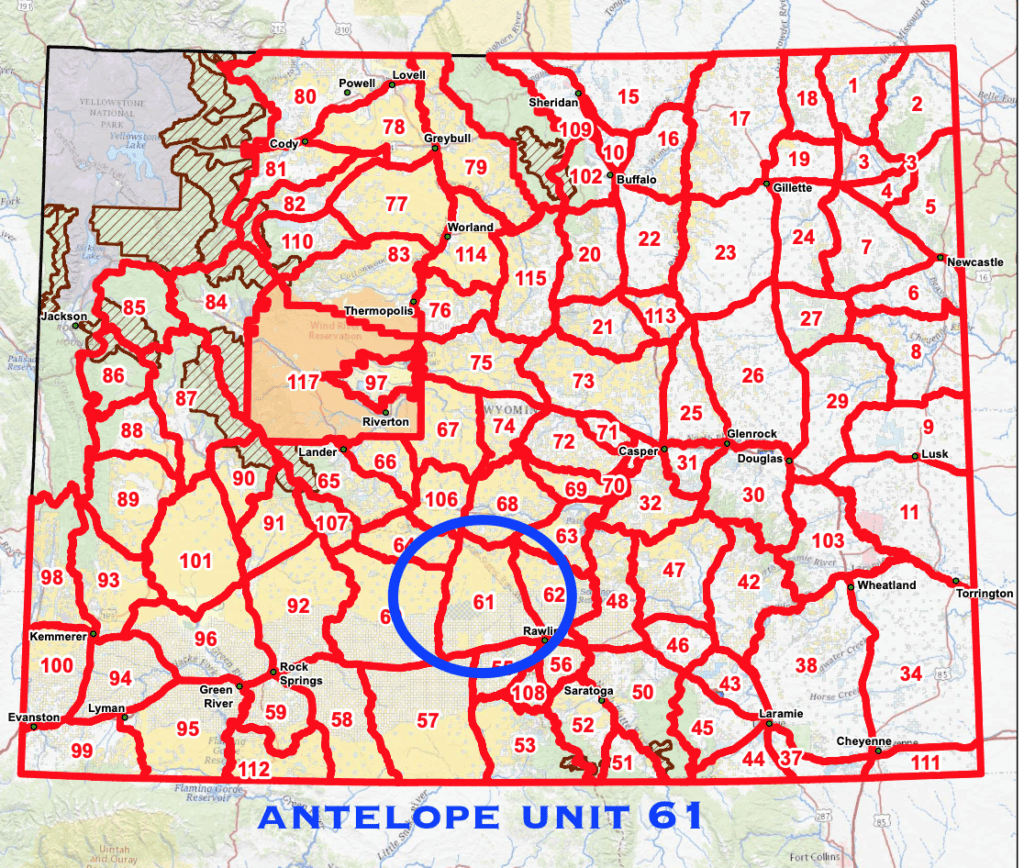 Mule deer are Wyoming's most abundant and sought-after deer. Mule deer are found from high in the western mountains to the low elevation creek bottoms of eastern Wyoming and most habitats in between. This property is within deer unit 98.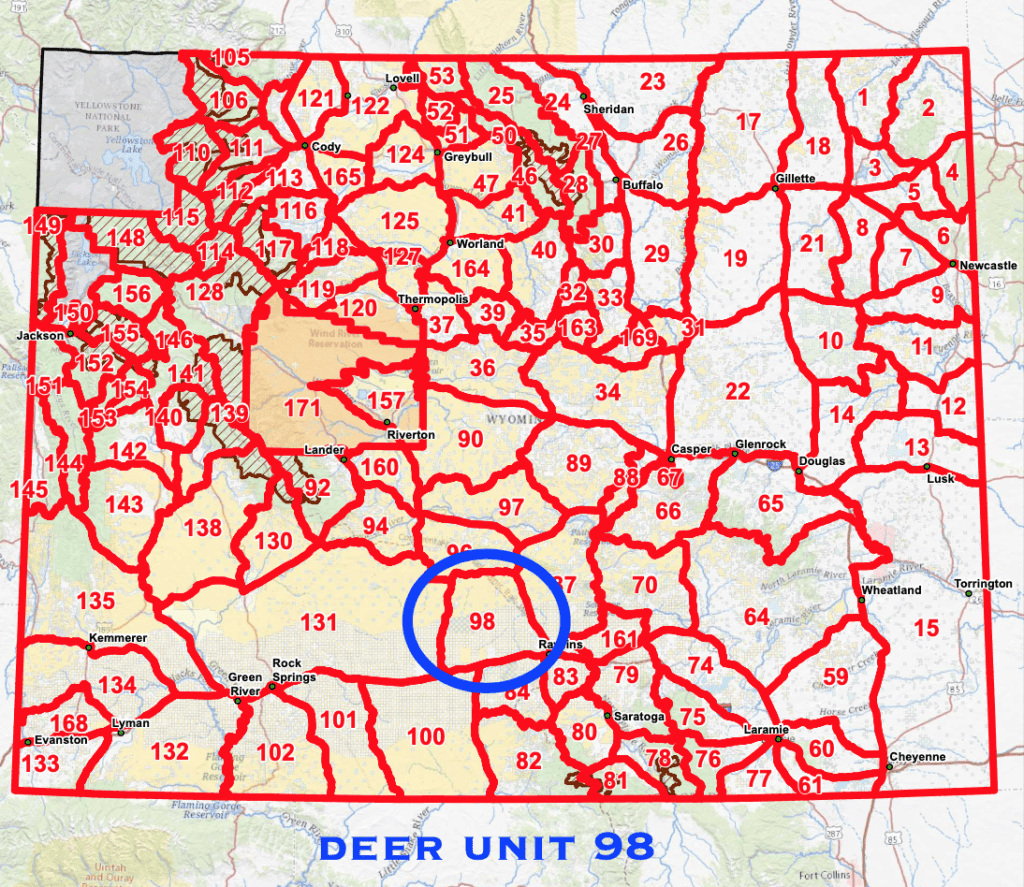 Elk range from mountainous wilderness areas to lowland deserts and plains and are plentiful on both public and private lands. This property is within elk unit 118.