For Sale
Gigantic 281.82 Acres Bordering over 1 MILLION Acres of BLM Land
BLM authorized road access
Payment Options
*The property is secured when both a deposit and contract are signed. Please only submit a deposit when ready to sign the contract to purchase.
Description
ONLY 280 OF THE ORIGINAL 640 ACRES REMAIN. Don't miss this opportunity to acquire land for under $300 per acre!!!
Looking for large REMOTE land with extra room to roam? Here are over 280 acres that happen to border over 1 MILLION CONTIGUOUS ACRES of public BLM land!
The property is situated in a valley between the Jackson Mountains to the west, the Slumbering Hills to the east, and Blue Mountain to the south. The contiguous BLM lands extend all the way from the property to and beyond Jackson Mountains via BLM roads and jeep trails. Located in Game Management Unit 035, this would be an excellent property for a hunting base camp adjacent to the Jackson Mountain public lands. The Winnemucca Sand Dunes are also just a few miles to the southeast from the property and can be accessed via BLM roads and jeep trails.
The property borders Valhalla Road, and is surveyed and staked with access easements. The property is zoned M-3 which allows many flexible uses. In addition, the BLM has issued a letter authorizing casual use of their roads for rural residences, farms, and ranches! Well permits in the area show water depths ranging from 50-200 feet below ground.
Other uses that would be ideal for this parcel are grazing land for horses and cattle, other agricultural uses, and RV or camping spot, ATV riding, a shooting range, bugout spot, or simply to hold as a long-term asset or inflation hedge.
All of this for under $300 per acre!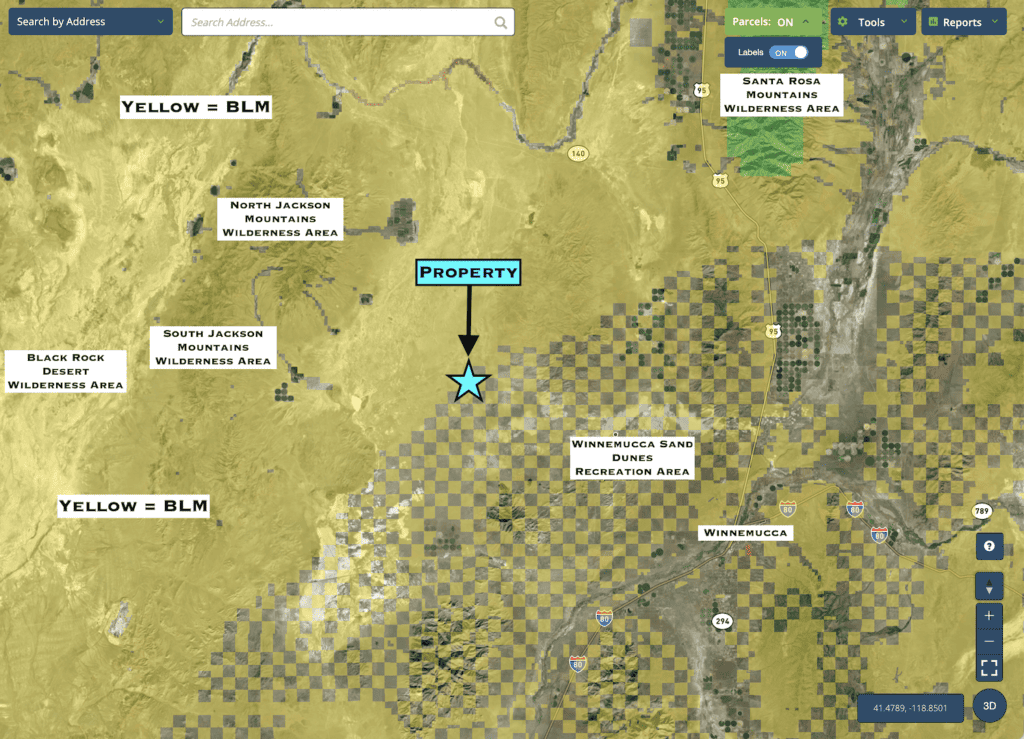 Directions: There are several ways to get there. Click this link for Google Maps navigation:
Property Attributes
County: Humboldt, NV
Parcel Number: 05020309-05020310 and 05020312-05020315 (6 parcels)
Legal Description: Township 38N, Range 34E, Section 27 (Lots 9-10 and 12-15)
Electric: Solar, propane, or generator
Water: Would be well. Wells have recently been completed near the property. Ask us for details!
Waste: Would be septic
Zoning: M3 (Open Land Use District)
HOA: No
Taxes: Approx. $300/yr.
Terrain: Level
Elevation: 4,150′
Winnemucca
Rural Nevada is full of wide-open spaces and beautiful landscapes. Winnemucca is a jewel found in the very center of Northern Nevada. Known for outstanding hospitality, Winnemucca has often been referred to as the "friendliest town in Nevada." With 24-hour gaming action, endless recreational opportunities, rich community history, quality accommodations, and great dining options, Winnemucca is the place to be.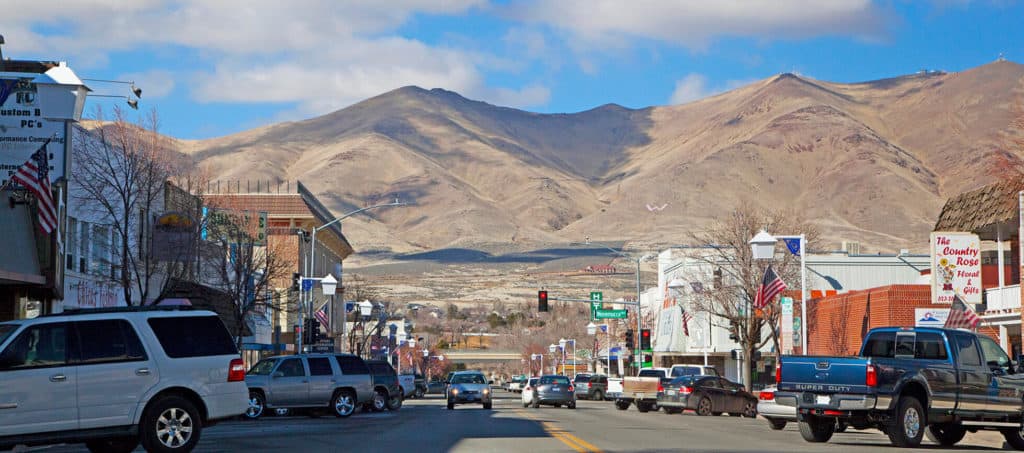 1 hr, 30 min to Winnemucca, NV, Population 7,500. Winnemucca has all services needed including restaurants, service stations, a hospital, and Walmart Supercenter.
3 hr, 45 min to Reno NV: Population 270,000
Driving to the property from the north via NV-140
Nearby Recreation – Winnemucca Sand Dunes
Into ATV and dirt bike riding? Just a few miles southeast of the property are the famous Winnemucca Sand Dunes!
Hunting
The property is within Game Management Unit 035 which includes the Jackson Mountain wilderness. This is an excellent unit if you want easy access to the vast public lands in the area.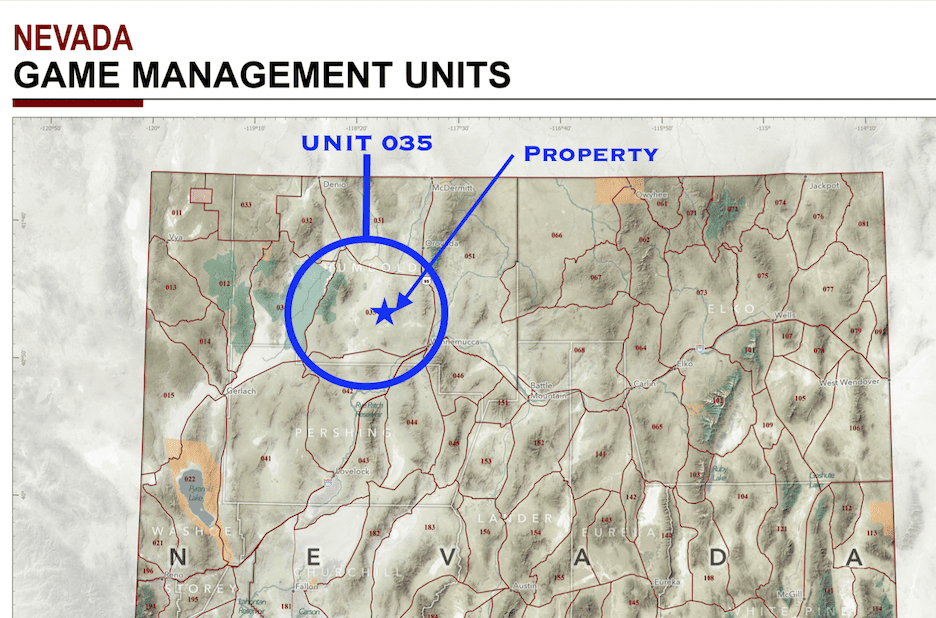 California Bighorn Sheep
The bighorn hunting opportunities are confined to the Jacksons Mountains. The King Lear Peak, Parrot Peak, and Deer Creek areas support the majority of the bighorn populations.
Deer
The majority of the harvest comes from the Jackson Mountains, particularly north of the Trout Creek – Jackson Creek Road. Deer populations are somewhat more scattered south of that area, but the area does offer good hunting opportunities. The Bloody Run Range has low deer numbers and fewer opportunities. Seasons for chukar and most upland game species are open during the regular deer season.
Pronghorn Antelope
The Slumbering Hills and east face of the Jackson Mountains are the better areas in Unit 035. All areas offer undeveloped camp site locations from the foothills to the higher elevations.
GPS
Survey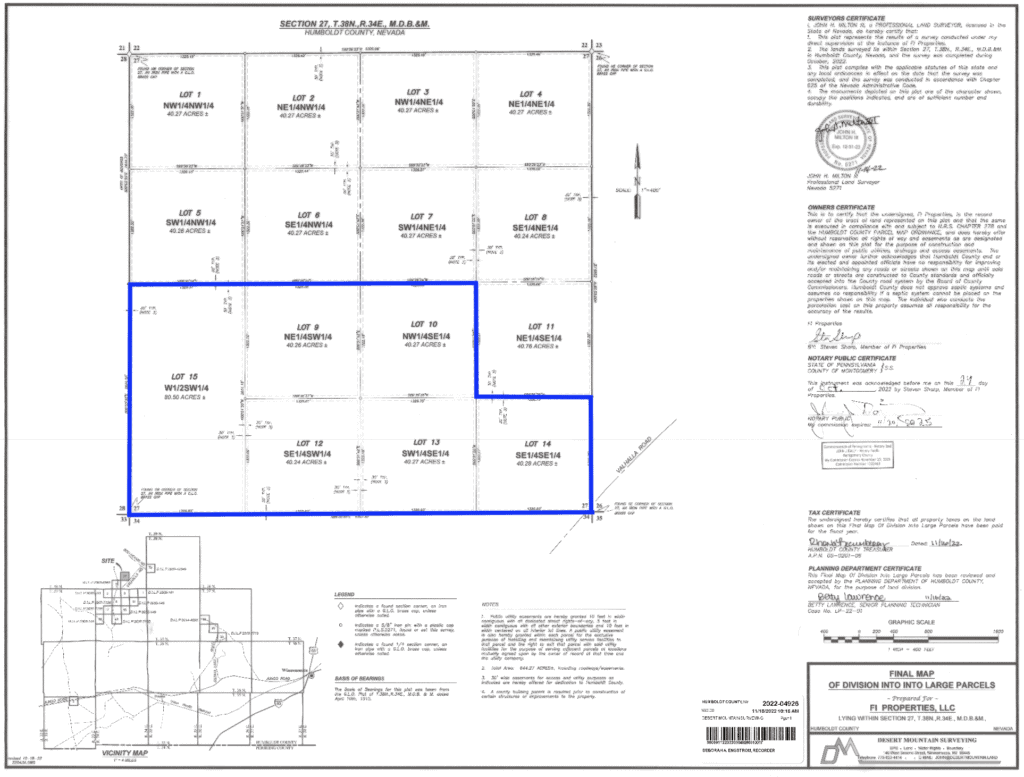 Have questions? Ready to purchase?
Call or text Steve at 484-246-5436 email [email protected] anytime. We pride ourselves on being responsive to the satisfaction of our customers and typically return all calls and messages within the hour. We'll be happy to explain what to expect with the closing process and answer any questions.
---
DISCLAIMER: Any information (including, but not limited to, all real property images, descriptions, pricing, locations, and availability) made available in this communication, by or through this website is provided for informational purposes and is but in no way guaranteed. The information is believed to be accurate and complete, however it is subject to change and/or correction without notice. Buyer is responsible for verifying all information with county public records and appropriate County department where the real property is located, including what can and cannot be done with the property. Buyer will need to work with the County to obtain the proper permits if needed. Buyer will also need to confirm the availability of any utilities needed or serviced on the property. Seller makes no warranties or representations about the real property, it's condition, or what can be built on the property. Buyer is responsible for conducting due diligence. If/when you visit any of our properties, you are visiting at your own risk and release Horizon Land Sales (aka FI Properties, LLC) and anyone associated from any and all claims or liabilities.