Sold
161.23 Majestic Acres in Willow Springs Ranch
In trophy elk area
Description
This is not your average New Mexico flatlands property. This is your opportunity to own 161+ acres nestled on the western edge of the Chupadera Mountains with a 250′ elevated area rising from the center of the property. 360-degree views as far as the eyes can see, including the Magdalena Mountains & Cibola National Forest. The majestic colors and crisp air of the unspoiled countryside are a sight to see. The peaceful sunsets are remarkable.
Want a little extra incentive to satisfy your inner explorer? Less than 2 miles to the north is over 1 million acres of contiguous public lands of New Mexico wilderness! This property is also located in the coveted Game Management Unit 17, home to some of the best elk and mule deer hunting in the state. Over a dozen elk were on the property when our photographer arrived. Seasonal creeks meander through much of the property. Looking for other nearby recreation? Elephant Butte State Park & Reservoir, the State's largest park, is just an hour away!
This property is very remote with few neighbors, yet easy to find once you know where to go. This would make an excellent rural residence for full time use or weekend getaway to take the family and friends. Other uses could be a base camp for outdoor recreation, residence with horses and cattle, short-term camping location, a bugout spot, or simply to hold as a long-term asset or inflation hedge.
Property Attributes
Parcel Number: R004099
Legal Description: Willow Springs Ranch, Lot 16A
Utilities: None, building would be off-grid. Solar, propane, or generators are most common for power. Water would be by well. Septic for waste.
Nearest town: 45 minutes to Socorro, NM: Population 9,000. Socorro has all services needed including restaurants, service stations, hospital, and Walmart Supercenter.
Taxes: $826.36 per year.
Terrain: Rolling to Mountainous
Elevation: 5,620-5,900′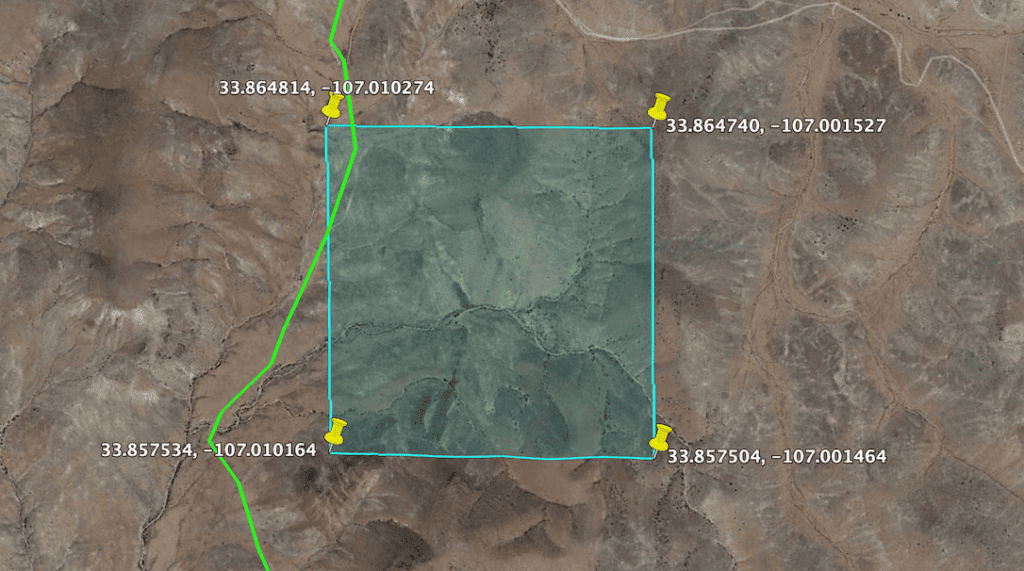 Directions:
From Albuquerque, take I-25 south for 99 miles to Exit 124 for NM-178. Turn right on NM-178. In 3.4 miles turn right onto Willow Springs Ranch Rd. In 3.8 miles, turn left onto Ornate Overlook. In 1/4 mile bear left onto Winchester Rd. In 3 miles, the road will pass through the western side of the property. The northwest corner of the property, just north of a nearby pond is staked. Or, simply put in GPS coordinates 33.863728, -107.009470 which will put you near the northwest quadrant of the property.
Willow Springs Ranch
The property is part of the Willow Springs Ranch HOA with light covenants. The HOA maintains the roads for a very reasonable $75 per year.
Home size: 1,200 SF minimum
Guest houses: Yes
Mobile homes: No
Manufactured homes: Yes
Animals/Livestock: Yes, limited to domestic use (not commercial)
Nearby Residences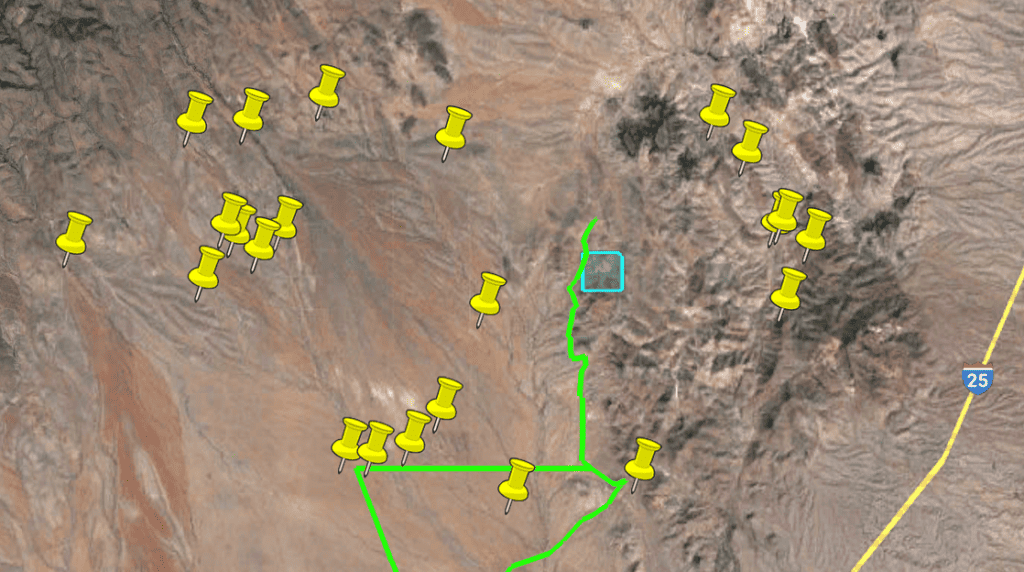 Hunting: New Mexico Game Unit 17 – A True Trophy Unit!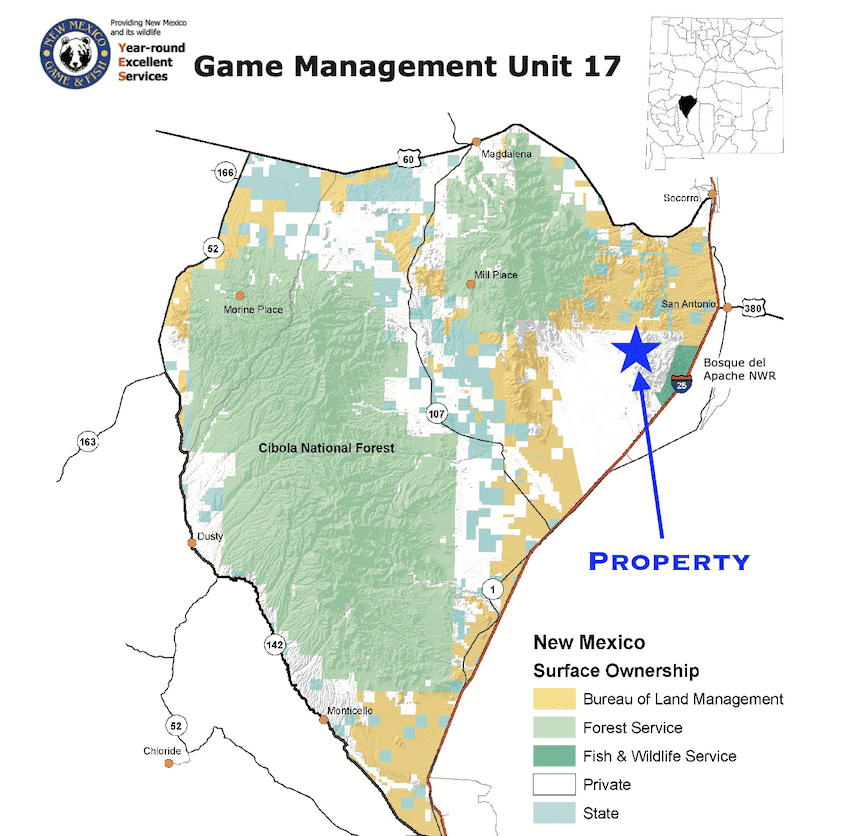 Game Management Unit 17 has produced some of the largest bulls ever harvested in New Mexico annually. GMU 17 has a variety of terrain from rough to moderate. Elevations range from 6,000 to 10,000 feet. GMU 17 has a healthy number of elk with plenty of trophy class bulls roaming within its boundaries. This is one of the top units in New Mexico for hunting trophy class bulls hands down. This hunt is very physically demanding, mountains and canyons are very steep and rocky. Pinon, ponderosa and juniper make up most of the forage.
Nearby Cities
45 min to Socorro, NM: Population 9,000
1 hr to Elephant Butte State Park and Reservoir
1 hr 45 min to Albuquerque: Population 560,000
3 hr to El Paso, TX: Population 680,000
Have questions? Ready to purchase?
Call or text Steve at 484-246-5436 or email [email protected] anytime. We pride ourselves on being responsive to the satisfaction of our customers and typically return all calls and messages within the hour. We'll be happy to explain what to expect with the closing process and answer any questions.