Sold
199.81 Acres at the Base of Black Mesa
An Outdoorsman's Paradise
Description
A hunters paradise! This is your opportunity to own 200 rugged acres at the end of a private road at the base of Black Mesa. It's just you and the wildlife back here! The property is located within Game Management Unit 50 which is home to elk, mule deer, bighorn sheep, and antelope – there are game tracks all over! This acreage has a very remote and wild feel to it, yet it is only 20 minutes from the center of town for all your services and supplies. There are several elevated flat areas that would be ideal locations for building a residence or hunting cabin. The views of the mountains and colors of the surrounding landscape are amazing. The southern boundary is fenced. Two arroyos bring seasonal water runoff through the property.
This property is zoned agricultural / residential. Wells for the neighboring properties range from 100-300 feet with water hit above these depths. This property has many potential uses such as a full-time residence, hunting camp, weekend getaway, retirement property, seasonal cabin, ATV and dirtbike riding, camping, or simply hold as an asset or inflation hedge. At under $1,000/acre, this is an insane deal. Don't let it pass you by!
Property Attributes
County: Rio Arriba
Parcel Number: 1045127160112 & 1045127369118
Utilities: Solar, propane, or generators could be options for power. The homes along Vista Del Valle are served by an electric line that ends about 1/2 prior to the property. Septic system for waste. A well would be needed for water.
Zoning: Agricultural / Residential.
HOA: No
Terrain: Mountainous
Elevation: 5,950-6,050′
Hunting – Game Management Unit 50
As a land owner, you can purchase over-the-counter private-land elk licenses through the EPLUS Program. More information can be found here: https://www.wildlife.state.nm.us/hunting/maps/eplus/
This website is a great resource for all things hunting in GMU 50. https://huntersdomain.com/hunting-info/new-mexico-units-hunting-info/nm-unit-50-hunting-info/
Source: Huntersdomain.com
Directions:
IMPORTANT – BEFORE YOU GO, 4X4 DRIVE VEHICLE WITH HIGH CLEARANCE ONLY!
From Espanola, take NM-68 / N Riverside Drive north. In approximately 3 miles, turn left on NM-291 / NM-74. In 1.8 miles, cross over the Rio Grande River and turn right onto NM-291 / NM-582 (signed as Rio Arriba County Route 0057). In 2.2 miles turn left onto Vista del Valle. In 1/4 mile bear left to continue on Vista de Valle. In 1,000 feet pass through the unlocked green gate. About 300 feet past the green gate, take the fork to the right. In 1/2 mile the road will enter the southeastern corner of the parcel. From here the road meanders through the property to the western side of the property. Be very cautious – portions of the road are washed out! Be sure to reference our maps, videos, and GPS coordinates for guidance.
This Google Maps link will take you just past the green gate. If you continue on the road, you'll hit the property. https://goo.gl/maps/GsmE8o4Bty4uqopq9
Parcel Map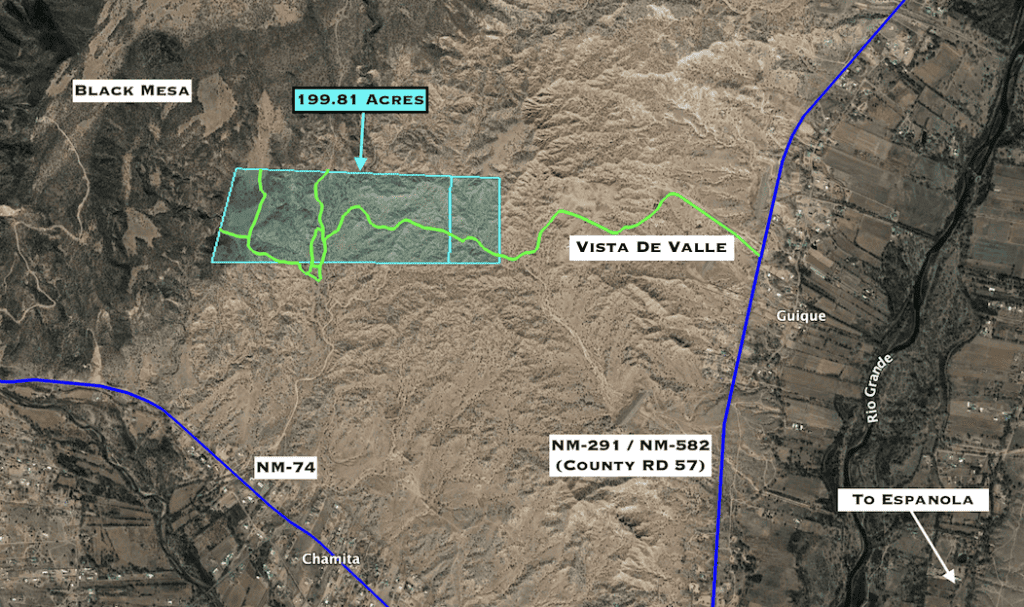 GPS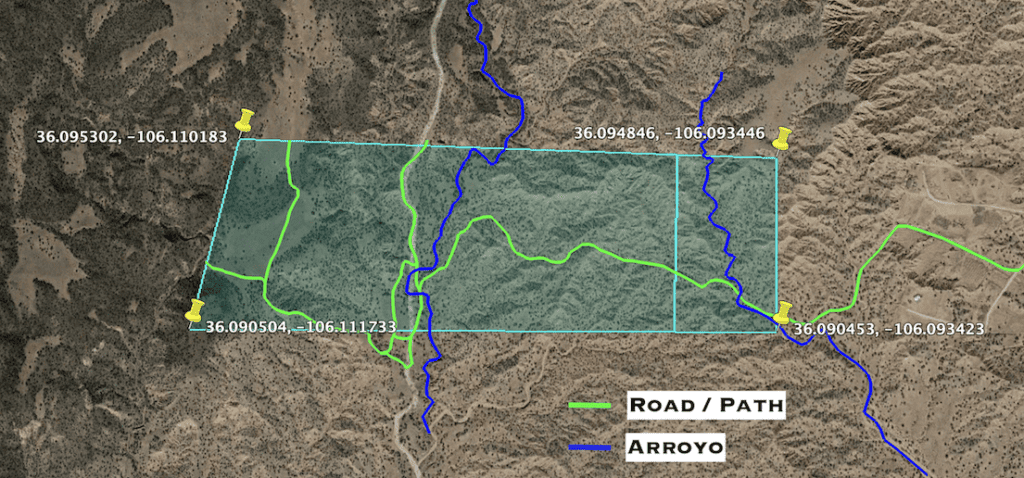 Survey
Nearby Cities
Espanola
The property is 20 minutes to Espanola, NM, population 10,000. Espanola has all services needed including restaurants, service stations, hospital, Lowe's, Walmart, and a casino.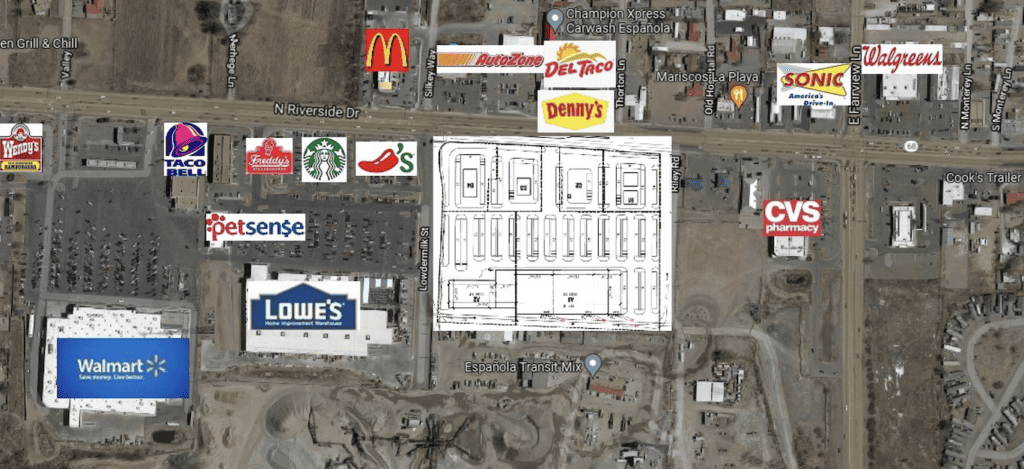 50 min to Santa Fe: Population 88,000
1 hr to Taos: Population: 7,000
1 hr 30 min to Albuquerque: Population: 520,000
Well Information
New Mexico Well Permit Website: https://www.ose.state.nm.us/WR/forms.php
New Mexico well database map: https://gis.ose.state.nm.us/gisapps/ose_pod_locations/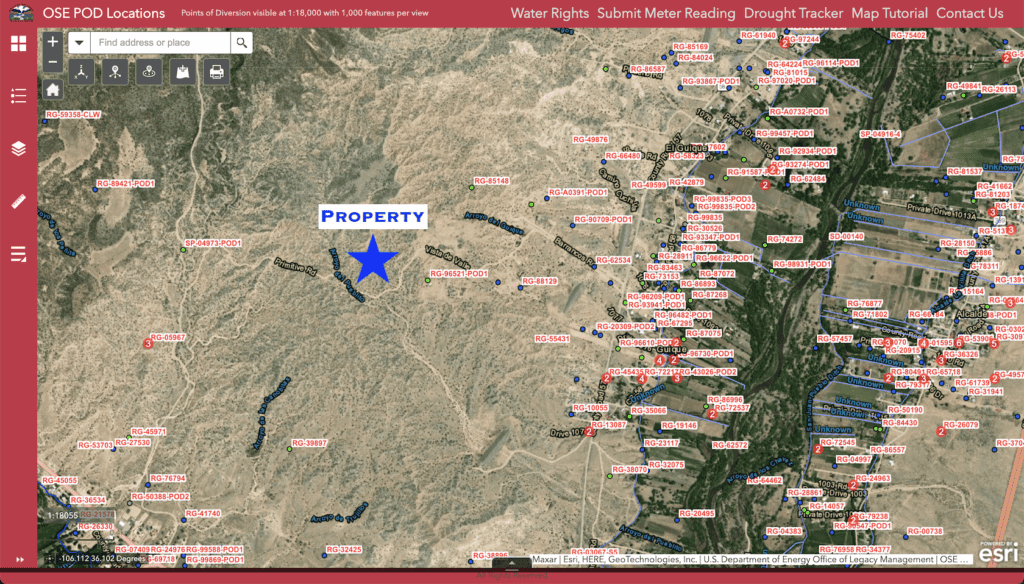 Well depths for the residences along Vista del Valle:
RG-71355: Well depth: 278 ft, Depth to water: 162 ft
RG-88129: Well depth: 287 ft, Depth to water: 154 ft
RG-62534: Well depth: 180 ft, Depth to water: 83 ft
RG-56803: Well depth: 100 ft, Depth to water: 22 ft
Have questions? Ready to purchase?
Call or text Steve at 484-246-5436 email [email protected] anytime. We pride ourselves on being responsive to the satisfaction of our customers and typically return all calls and messages within the hour. We'll be happy to explain what to expect with the closing process and answer any questions.
---
DISCLAIMER: Any information (including, but not limited to, all real property images, descriptions, pricing, locations, and availability) made available in this communication, by or through this website is provided for informational purposes and is but in no way guaranteed. The information is believed to be accurate and complete, however it is subject to change and/or correction without notice. Buyer is responsible for verifying all information with county public records and appropriate County department where the real property is located, including what can and cannot be done with the property. Buyer will need to work with the County to obtain the proper permits if needed. Buyer will also need to confirm the availability of any utilities needed or serviced on the property. Seller makes no warranties or representations about the real property, it's condition, or what can be built on the property. Buyer is responsible for conducting due diligence. If/when you visit any of our properties, you are visiting at your own risk and release Horizon Land Sales (aka FI Properties, LLC) and anyone associated from any and all claims or liabilities.