Sold
2.5 Acres Next to Willow Springs International Raceway
A unique opportunity!
Description
How cool is this! Your unique opportunity to own land within walking distance to the historic racetrack complex! Have a place to call your own and build your paradise. The 2.5-acre property is easily accessible and offers beautiful views in all directions. The zoning is agriculture which offers many flexible uses for the property.
Conveniently located 10 minutes west of Rosamond and 30 minutes from Lancaster, this property is close to all the amenities you will need. The convenient location coupled with the rural feel offers the amenities of town with plenty of space to explore.
Willow Springs International Raceway
Willow Springs International Raceway is a 600-acre complex of eight racetracks embracing nearly every conceivable motor sports discipline. The park is located about an hour north of Los Angeles, California near Lancaster.
Construction of the track began in 1952, with the inaugural event held on November 23, 1953. The fact that it has been running continuously since then has caused the state of California to recognize Willow Springs International Raceway as an Official California Point of Historical Interest. This world-famous track hosted the first two NASCAR events west of the Mississippi, the first F.I.M. 500 Grand Prix motorcycle race in America, the first AMA events, the first 24-hour motorcycle endurance race, the first kart road racing in America, and the first California Sports Car Club racing on a purpose-built road course. Over the years, track records have been set and broken many times by internationally famous drivers and riders.
Willow Springs International Raceway is a super-fast 2.5-mile / nine-turn road racing circuit, patterned after the great courses and road racing traditions of Europe, and is unchanged from its original 1953 configuration. With its substantial elevation changes and high average speeds, Willow Springs is one of the fastest and most challenging tracks in the country. Also known as the Fastest Road in the West, this track is one of the safest road courses in the world, despite its high velocities. Cornering speeds on this track range from about 70 mph to over 170 mph, with straightaway speeds nearing 200 mph possible with fastest cars and motorcycles.
With its long and short straight-aways, tight corners, and long sweeping turns, there aren't many road courses in the world with spectator viewing like Willow Springs. Guests can see almost the entire racecourse from just about anywhere, including the many trackside camping areas. Spectator amenities include two full-service diners with full bars, a well-stocked gift shop, plenty of spectators seating and parking modern rest rooms, and outstanding viewing areas. Large viewing areas are available for RV parking and camping, including several full hookups for trailers and motor homes. Racer amenities include several enclosed garages available for use by competitors and testers, with racing fuel and tire services available at the track daily.
Directions:
From Rosamond, take Rosamond Blvd 4.7 miles west and turn right (north) onto 65th Street W. Follow 65th Street W for 1.1 miles and bear left onto unnamed road. Follow the unnamed road northwest for 0.6 miles and turn left onto 70t Street and then an immediate right onto Brightstar Avenue. You will be on the property in 0.2 miles.
You can confirm you are there by checking the GPS coordinates.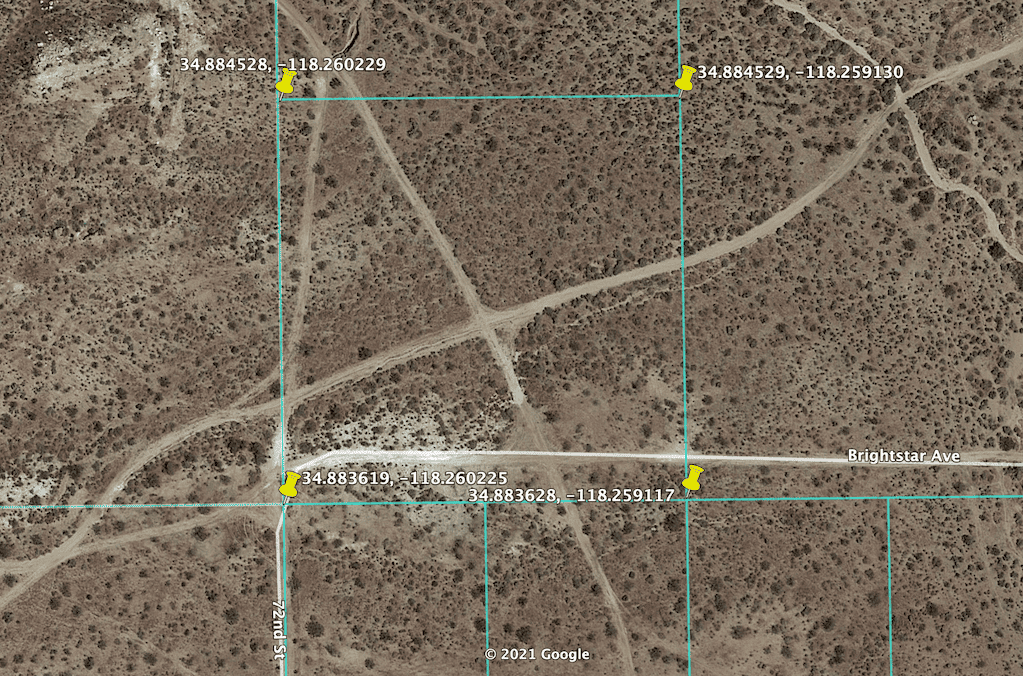 Click link to open directions via Google Maps
Property Attributes
Electric: None
Water: None, would be well
Septic: None
Zoning: Agriculture
Mobile Homes: Yes
Modular Homes: Yes
Nearest Cities: 10 min to Rosamond, 20 minutes to Mohave, 30 min to Lancater, 1 hr 15 min to Bakersfield, 1 hr 45 min to Los Angeles
Parcel ID: 315-072-04-00-2
Elevation: 2,500 ft
Terrain: Flat
Taxes: $106.84 per year
Have questions? Ready to purchase?
Call or text Steve at 484-246-5436 email steve@horizonlandsales.com anytime. We pride ourselves on being responsive to the satisfaction of our customers and typically return all calls and messages within the hour. We'll be happy to explain what to expect with the closing process and answer any questions.