Sold
75.9 Acres near Casper, WY – Fenced and Bordering 40,000 Acres of BLM Land
End-of-road location
From Casper, Take US 20 / US 26 West for 22.6 miles. Turn left at Pedros Pass and follow the road 3.4 mile to the property. Refer to our parcel maps and GPS coordinates for details.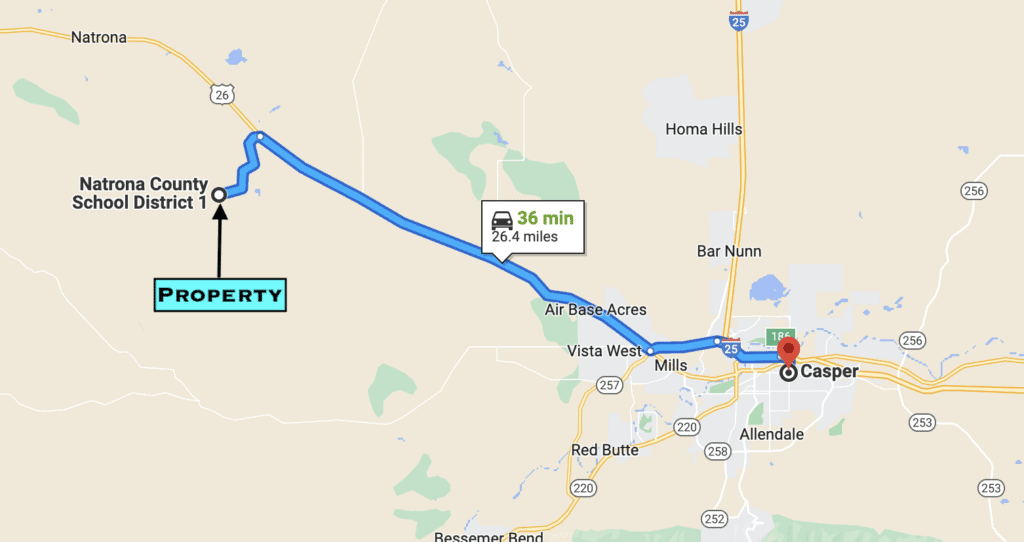 Property Attributes
Acres: 75.9
Legal Description: T34N R82W SEC 6, Lots 6 & 7
Utilities: None, building would be off-grid. Solar, propane, or generators for power. Well permits are granted through the Wyoming State Engineers office. (307) 777-6158
Zoning: RAM (Ranching, Agricultural & Mining)
Hunting: Antelope Unit 71, Deer Unit 89, Elk Unit 23, Turkey Unit 2, Sandhill Crane Unit 8, Mountain Lion Unit 16, Pheasant Unit 11, Sage Grouse Unit 1.
Nearest town: 35 hour to Casper, WY: Population 58,000. Casper is the largest city in Wyoming and is home to the Casper-Natrona County International Airport
Taxes: $483.31 per year.
Terrain: Rolling
Elevation: 5,580 – 5,600′
Description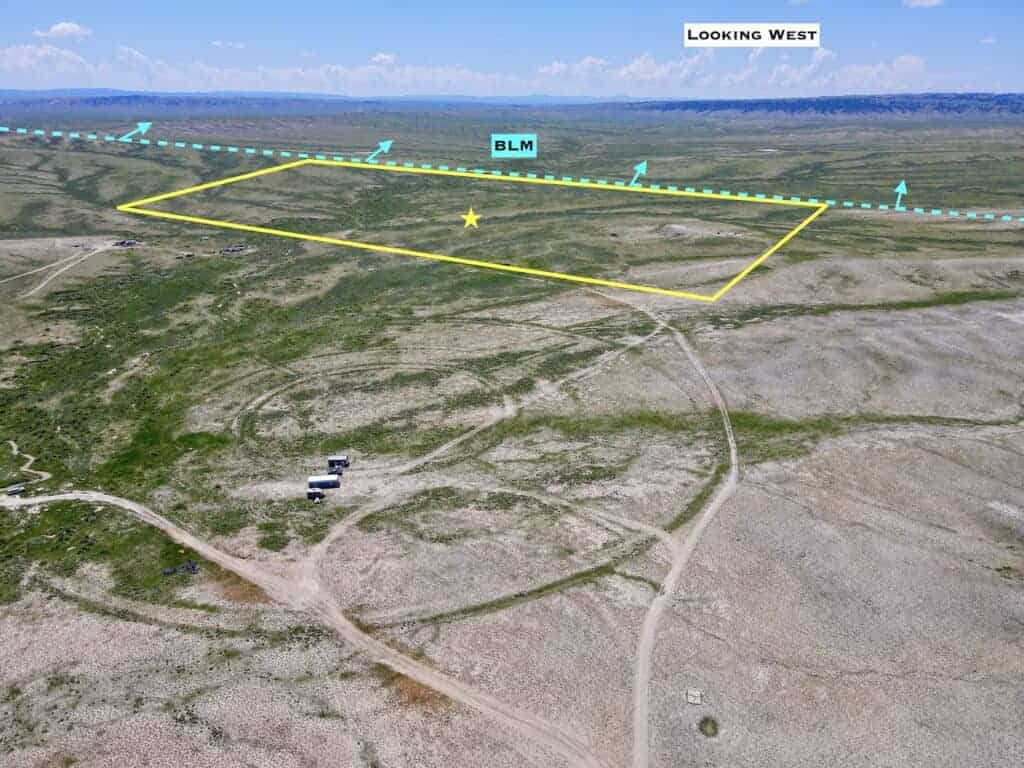 Don't miss out on this incredible opportunity to own 75.9 fenced acres at the end of a road nestled in the picturesque foothills of the Cowboy State! This expansive property, located just a short 35-minute drive west of Casper, Wyoming, offers awe-inspiring views. Adding to the allure is "Clarks Gulch", a seasonal stream that gracefully meanders through the property.
This property has a new survey and corners have been staked for your convenience. There is an old shed that can be used to store your items. There is no HOA so no burdensome rules or annual dues. There are no restrictions for minimum dwelling size and camping, manufactured homes, and livestock is all permitted.
Speaking of convenience, this property is located less than 30 minutes from the Casper-Natrona County International Airport. Within just a few hours' drive, you can find yourself immersed in the splendor of North America's most stunning national parks, including Grand Teton National Park, Yellowstone National Park, and Rocky Mountain National Park.
Looking for more space to road from your doorstep? Bordering this property are over 40,000 continuous acres of Bureau of Land Management (BLM). The bordering BLM land is open for ATV adventures, dispersed camping, hiking, biking, horseback riding, wildlife viewing, hunting, and fishing.
Marvel at the pronghorn antelope as they graze upon the sagebrush and abundant grasses that dot the landscape. Keep your eyes peeled for elk and mule deer that roam this corner of the state. And don't be surprised when prairie dogs, foxes, and coyotes make appearances, adding their own vibrant touch to the thriving ecosystem.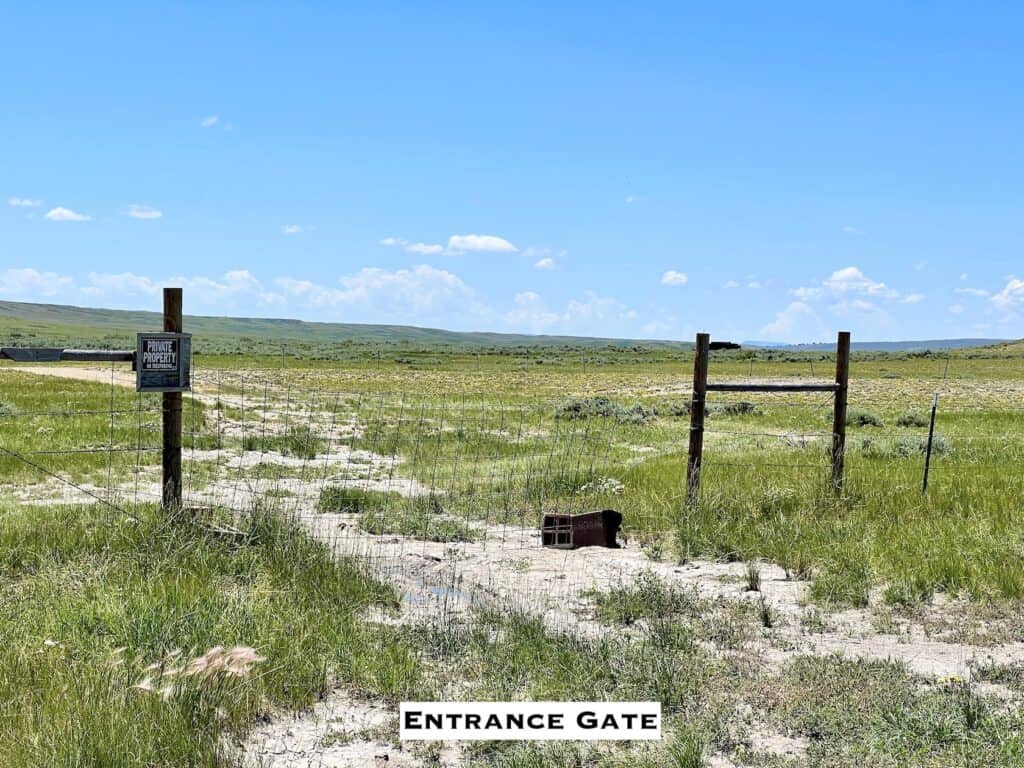 Casper, WY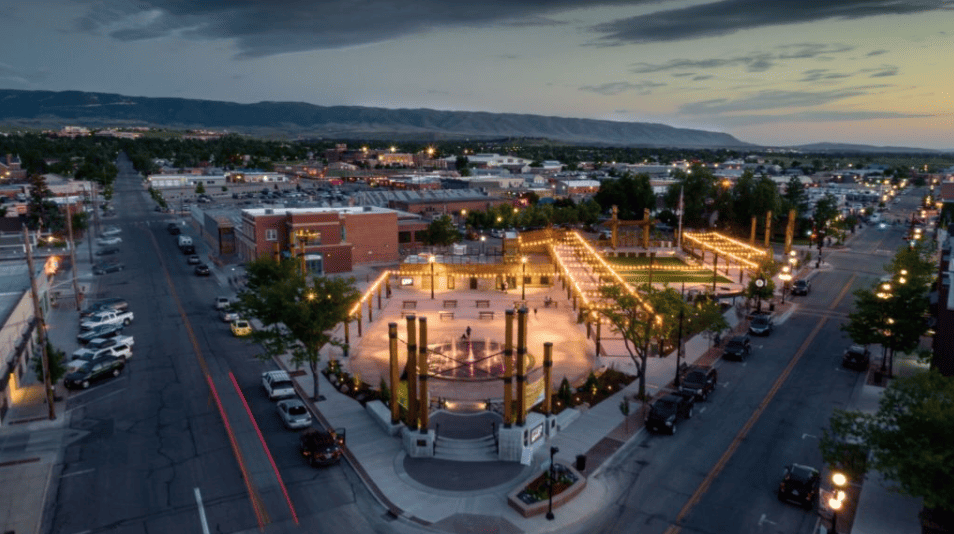 The City of Casper, the 2nd largest city in Wyoming is only 24 miles away. Nestled in the North Platte River Valley at the base of iconic Casper Mountain, Casper is a picturesque American town – uncrowded, peaceful and welcoming to visitors. Regal mountains are visible from everywhere in town, and the spectacular North Platte River runs right through Casper. Even when you're experiencing pastoral downtown, you'll be engulfed by the idyllic beauty that you came to see in the West. You'll see antelope grazing on residents' lawns, and if you ever run into a traffic jam, baby deer crossing the road are typically the source of the delay. Sunrises bathe the town in pink, sunsets burn fiery orange, and a night under the clear Casper stars will be one you'll never forget.
Nearby Cities
2 hr 45 min to Laramie, WY: Population 34,000
3 hr to Cody, WY: Population 10,000
3 hr to Cheyenne, WY: Population 64,000
3 hr 30 min to Fort Collins, CO: Population 165,000
4 hr 30 min to Billings, MT: Population 117,000
4 hr 30 min to Denver, CO: Population 620,000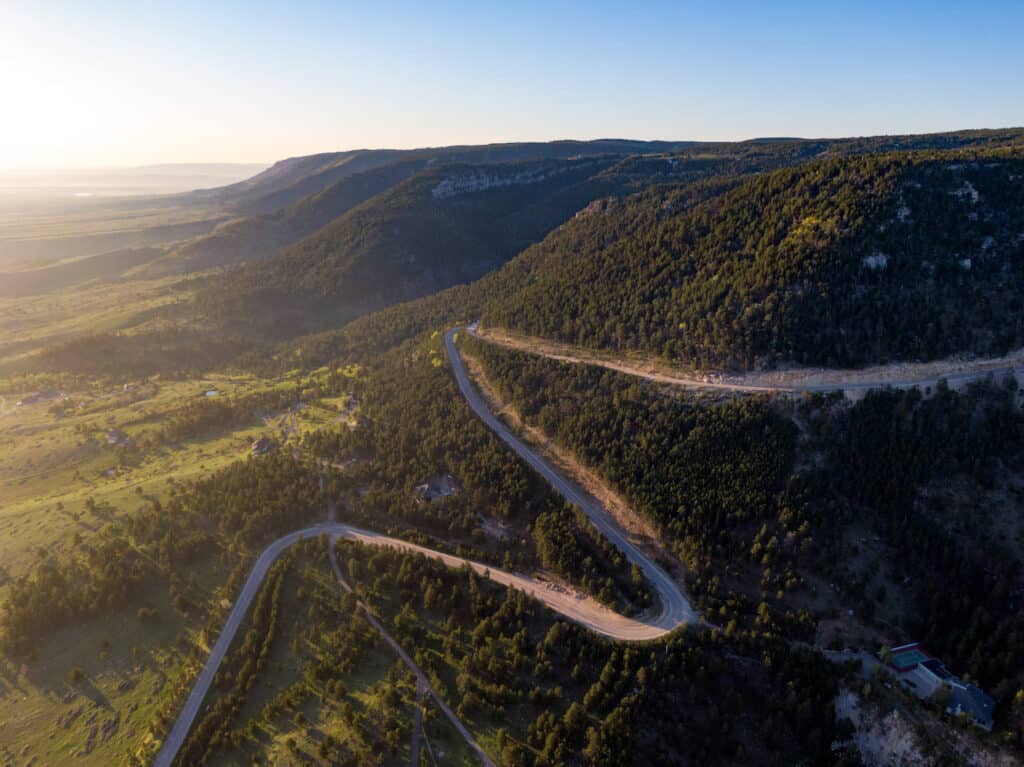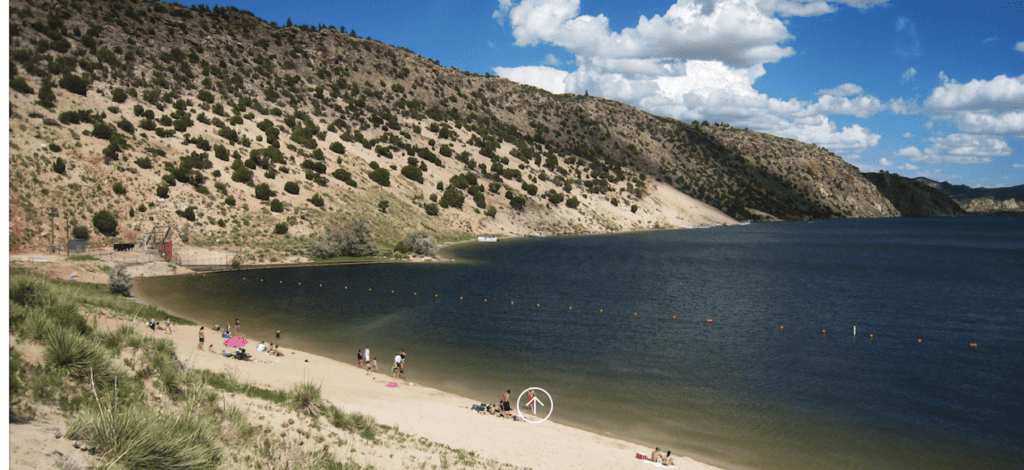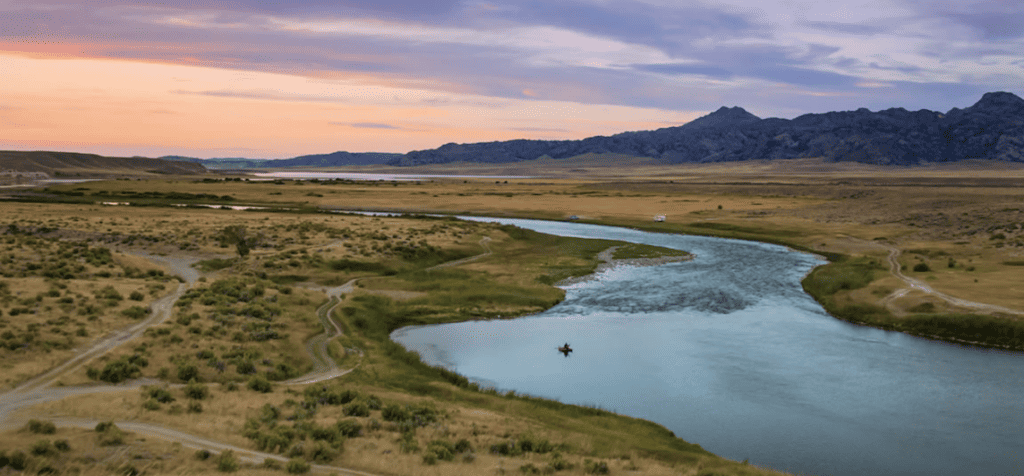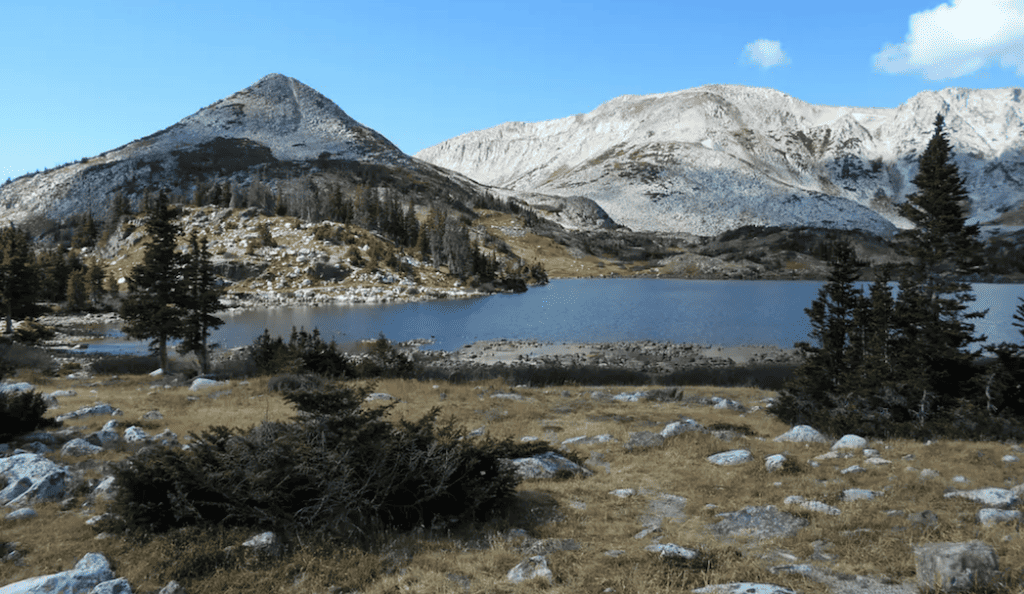 Nearby Attractions: Grand Teton National Park – 3 hr 45 min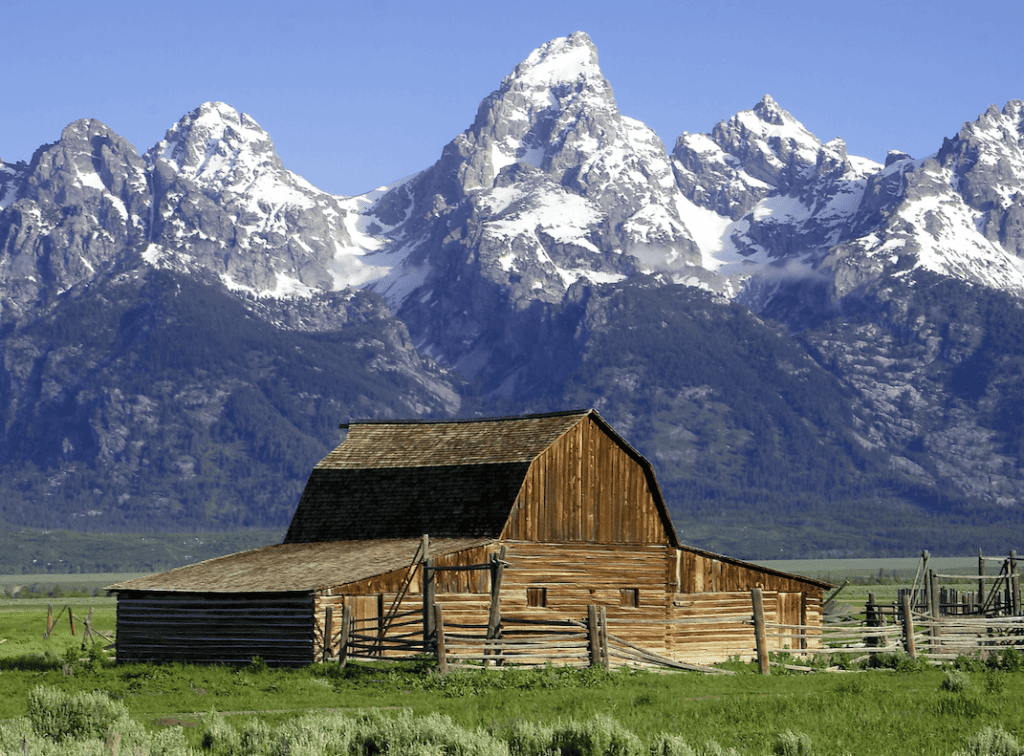 Nearby Attractions: Yellowstone National Park – 4 hr 15 min
Well Information
The Wyoming State Engineer's Office issues well permits. Contact them for details regarding all items well related. http://seo.wyo.gov/home (307) 777-6158
The Wyoming State Geological Survey (WSGS) has an interactive map showing all the wells in the area, including well depth, static water level, and installation date. You can access the interactive map using this link (the wells will display when you zoom in)
https://wsgs.maps.arcgis.com/apps/webappviewer/index.html?id=09ebeedba94048a0b1ec4dcfc71eb9b5
Surveyed and Staked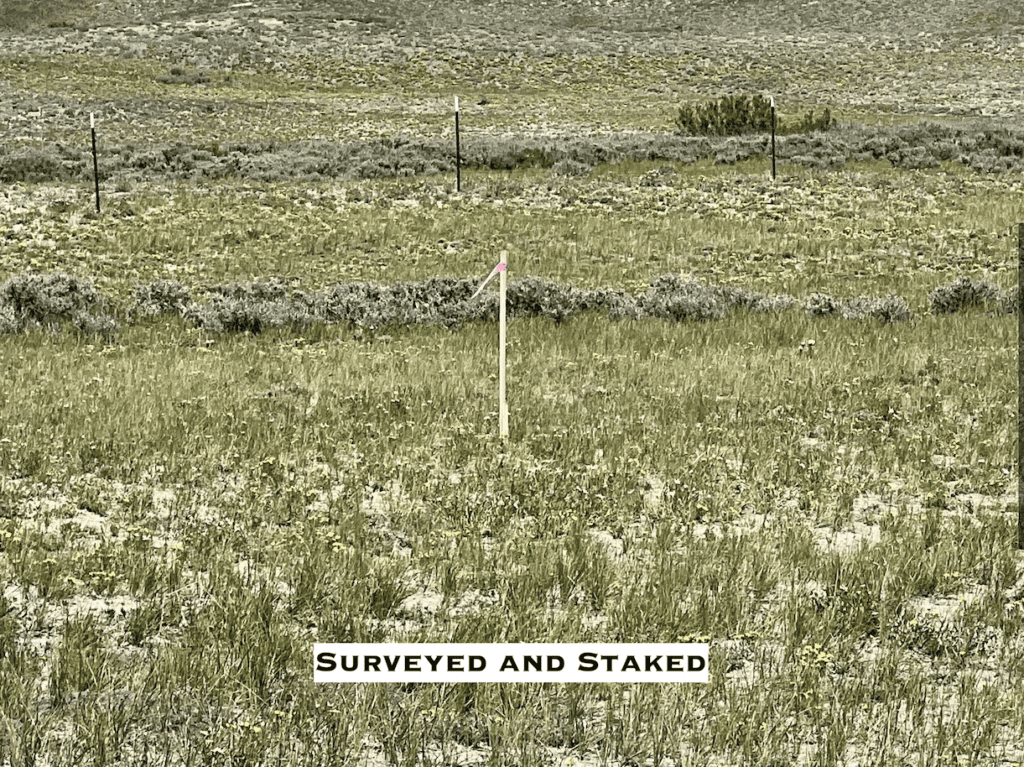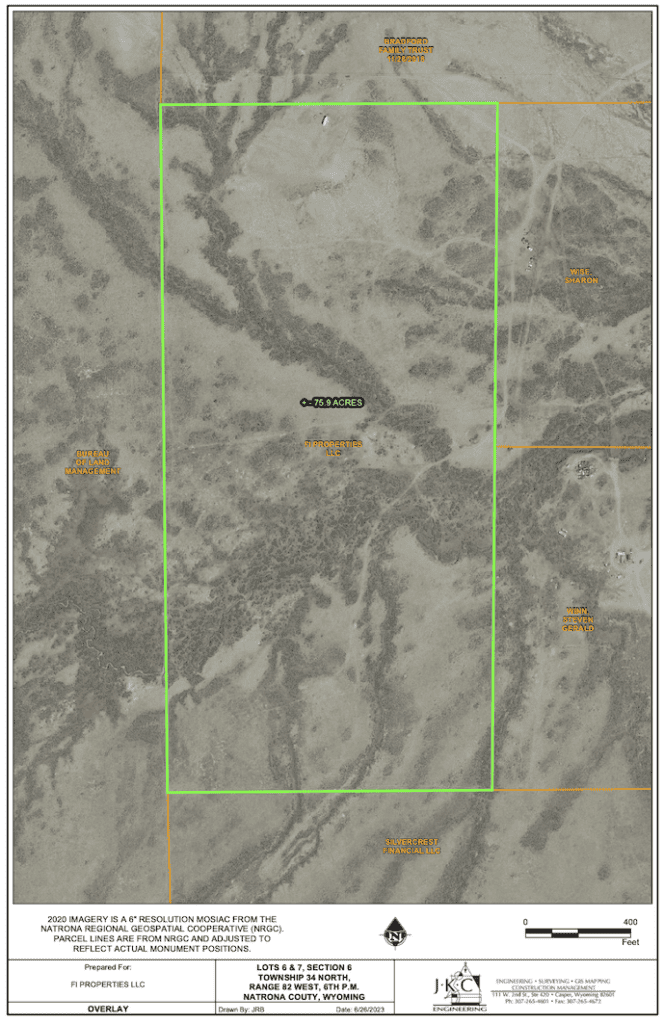 Hunting Information
The Wyoming Game & Fish Department is an excellent resource for all things hunting. https://wgfd.wyo.gov/hunting
If you want to hunt antelope, you've come to the right place. Wyoming has more antelope than all the rest of the continent, and harvest success commonly exceeds 85%. Pronghorn, called antelope here, are found only in western North America. This property is within antelope unit 71.
Mule deer are Wyoming's most abundant and sought-after deer. Mule deer are found from high in the western mountains to the low elevation creek bottoms of eastern Wyoming and most habitats in between. This property is within deer unit 89.
Elk range from mountainous wilderness areas to lowland deserts and plains and are plentiful on both public and private lands. This property is within elk unit 23.
Have questions? Ready to purchase?
Call or text Steve at 484-246-5436 or email steve@horizonlandsales.com anytime. We pride ourselves on being responsive to the satisfaction of our customers and typically return all calls and messages within the hour. We'll be happy to explain what to expect with the closing process and answer any questions.